throwing a party? All you need are some easy dip recipes in your back pocket! Find our 35 best below. These include Spinach Artichoke Dip, Guacamole and more!
Every year, I take the Super Bowl as an opportunity to make some of my favorite dip recipes. I've never been a huge football fan, but if turning on the big game means I can eat spinach artichoke dip or guacamole, then I am 100%. Pass the Chips!
If you're also making snacks for a Super Bowl party this year, I've rounded up my 35 best dip recipes below. These include Creamy, Cheesy Dips, Epic Bean Dips, Fresh Salsa, Homemade Hummus and more. Whatever you choose, I promise, it will be a hit! These dip recipes are fun and delicious. You and your guests will love them!
Creamy, Cheesy Dip Recipe
Every time I make one of these dip recipes for a party, I have an empty bowl (or skillet!) at the end of the night. They are rich, tangy and delectably creamy. Cheese lovers, get excited!
Spinach Artichoke Dip
This recipe tastes just like the traditional spinach dip. It's rich, luscious, and bursting with bright artichoke flavor. But instead of using cream cheese, mayo, or sour cream, I make the creamy base with a secret ingredient…cauliflower!
Jalapeno Popper Dip
Everyone's favorite finger food, but in dip form!
corn dip
This dip has a wonderfully bright and spicy flavor, but what really makes it special is its texture. Crunchy, succulent corn kernels serve up a creamy combo of mayo and Greek yogurt. Tasty!
Whipped Feta Dip
For a surprising sweet and savory contrast, top this dip with a drizzle of honey and a sprinkle of pomegranate seeds. Serve with pita!
Even More Creamy Dip Recipes… That Are Dairy-Free!
You don't have to be a vegetarian for these vegetarian dip recipes. They're just as rich, creamy, and delicious as the dairy-based dips above, but one superstar plant-based ingredient—cashews!—makes their luscious texture. Serve one up at the big game or your next party, and everyone will be asking for the recipe!
french onion sauce
Silky caramelized onions pack this dip with wonderful savory, umami flavor.
Vegan Cheese
My plant-based riff on a classic queso dip! Made with sweet potatoes, cashews, and nutritional yeast, it's out-of-this-world creamy, and its cheddar cheese-like flavor is absolutely addictive. Even devout cheese lovers (aka jacks) can't get enough of it!
Vegan Ranch Dip
It offers everything you love about classic ranch (creamy! tangy!), but it's completely dairy-free. Scoop it up with carrot sticks, celery, or spicy buffalo cauliflower!
really great guacamole
Is it really a party without it?
Best Guacamole
Jalapeños and lots of lime add a zesty, spicy kick to this version of the classic party dip.
4 Delicious Bean Dip Recipes
Is it just me, or is bean dip seriously underrated? Everyone's crazy for spinach artichoke dip, hummus, and guac, but if you do bean dip right, it's just as delicious. These four dip recipes prove it!
Best Bean Dip
One of my all time favorite dip recipes! This humble-yet-delicious dip is zesty, smooth, and creamy. It goes fast, so you might want to double it!
Shepherd Caviar
It's the perfect dip to serve at parties because it's actually better If you make it ahead! Wait to add avocado until just before eating.
Vegan Seven Layer Dip
A plant-based spin on my mom's famous taco dip! It starts with a base of creamy refried beans, followed by kale guacamole, cashew sour cream, spiced quinoa, and loads of fresh garnishes. Serve it with tortilla chips—they provide a great crunchy contrast to all those creamy layers.
White Bean Dip
Pulse in fresh basil or rosemary for a vegetarian twist on this simple dip.
to swear by salsa
Leave the shabby stuff! These homemade salsas are easy to make, and they're fresher and more flavorful than any kind you can find at the store.
Homemade Salsa
All you need are 10 ingredients and 10 minutes to make a batch of this refreshing salsa!
Tomato Green Sauce
Roasted tomatillos and lots of lime juice add zing to this homemade salsa verde.
pico de gallo
Don't feel like breaking out the food processor? match it fresh sauce by hand!
Mango chutney
You can't go wrong making this Mango Salsa recipe as written, but it's also a great one to switch up! Try adding chopped red pepper for crunch, or add cooked black beans for a more flavorful dip.
Corn Salsa
Fresh corn kernels give this simple salsa a wonderful crunchy texture.
Avocado Sauce
This recipe is like a mashup of mango salsa and guac, so it should come as no surprise that it's a huge crowd pleaser.
Peach Salsa
Look for me in August, and you'll probably find me mixing up a batch of this fruity salsa. Peaches make it incredibly juicy and sweet. If I have any leftovers after a party or gathering, I pile them into a rice bowl the next day!
Pineapple Salsa
This salsa is one of my favorite dip recipes to make ahead. It's especially delicious after sweet, tangy, bright and spicy flavors have had a chance to mix and mingle in the fridge.
Pass the pita!
Big hummus fan? These easy dip recipes are for you!
best hummus
Creamy, nutritious and brightened with lemon, this luscious hummus is a hit at any gathering. But don't just save it for special occasions! I like to keep it on hand for everyday snacking as well.
baba ganosh
Charred eggplant gives this Mediterranean dip its signature silky texture and smoky flavor. It's so good that I often forget to put it in a serving bowl. Instead I eat it straight from the food processor!
muhammara
This Syrian red pepper is sweet, sour and slightly spicy. Serve it on its own with pita for dipping, or add it to a mezze platter.
Beet Hummus
Want to add a pop of color to your party appetizer spread? This Electric Pink Hummus will do!
Red Lentil Hummus
Red lentils substitute for traditional chickpeas in this curry-spicy riff on hummus. It's packed with protein and bright, bold flavor!
Fresh, Herb-Flaked Dip Recipe
I use fresh herbs in almost every dip, but the dip recipes in this section really put them front and center. The herbs make these dips super delicious and refreshing. Any of them would be a great addition to a party appetizer spread!
Tzatziki
Although tzatziki pairs beautifully with pita, veggies, and more, my favorite way to serve it is with pita chips. I love the salty crunch of chips over the creamy, cooling dip!
green goddess dress
You can make this aromatic dressing with any mix of soft, leafy herbs that you like. parsley? Tarragon? basil? Coriander? Chives? They're all fair game!
Creamy Avocado Dip
The combination of garlic, dill, and fresh lime juice gives this creamy dip a definite ranch vibe. I love it for dipping with crackers and vegetables!
Olive Tapenade
Fresh basil cuts the richness of this briny olive tapenade. Serve it on a cheese board with crostini or baguette slices.
All about aioli
…which is really just code for mayo. These rich, creamy sauces are incredible dips for crunchy, crunchy finger foods like french fries, onion rings, and more.
Remoulade Sauce
My dip of choice for air fryer fried pickles! It's rich and tangy with a spicy kick.
tartar sauce
It has a reputation as a classic dip for fish, but it goes well with so much more. Serve it with fries, crispy cauliflower, or plain old potato chips.
chipotle sauce
Readers say this chipotle sauce makes everything better, and I totally agree! I especially love it with Oven-Baked Sweet Potato Fries.
Chipotle Ranch Dressing
Can't choose between Chipotle Sauce and Ranch? You don't have to! This salty, spicy sauce offers the best of both worlds.
Spicy Mayo
Once you learn how easy it is to make this 4-ingredient dipping sauce, it'll always be on hand in your fridge. Creamy, spicy, and bright, it's great with everything from french fries to sushi.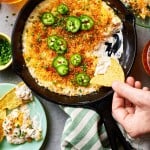 Best Dip Recipe: Jalapeno Popper Dip
works 8
3

jalapeno peppers

,

2 leftovers whole, 1 halved

1

Garlic cloves

,

unpeeled

1½

cup

Condensed Whole Milk Greek Yogurt*

1

small spoon

onion powder

1

small spoon

sea ​​salt

,

for more spraying

heaping ¼ teaspoon smoked paprika

and a half

cup

Bread crumbs

1½

spoon

extra virgin olive oil

,

plus more for drizzling

and a half

cup

grated sharp cheddar cheese

chopped chives

,

for garnish

tortilla chips

,

for serving
Preheat oven broiler and line a baking sheet with foil. Place 2 whole jalapenos and 1 jalapeno halves on a baking sheet. Drizzle olive oil and sprinkle salt. Wrap garlic cloves in a piece of foil and place on a baking sheet with a drizzle of olive oil. Simmer for 10 to 15 minutes, or until jalapeños are soft and blistering.

Remove from oven and set aside to cool. When jalapeños are cool to the touch, use your hands (wearing gloves, if desired) to peel and discard loose skin. Cut the peppers in half and remove the seeds and membranes. Finely chop the chillies. Remove the garlic from its paper and mash it into a paste using the back of a chef's knife.

In a medium bowl, whisk together yogurt, onion powder, salt, smoked paprika, garlic, and roasted jalapeños.

In a small bowl, toss panko with olive oil. Transfer yogurt mixture to a small skillet or baking dish, top with cheese, and sprinkle with panko. Fry 1 to 5 minutes or until topping is golden brown. The time will depend on your broiler.

Take out from the oven. Thinly slice remaining jalapeño in half and sprinkle slices over dip. Top with chives and serve with tortilla chips.