This delicious Crockpot Orange Chicken tastes just as good as your favorite take-out.. but healthier! Tender chicken is coated in a savory orange sauce and served with broccoli and peppers for a delicious and easy dinner that's bound to become a weeknight favorite.
Why You're Going to Love This Crockpot Orange Chicken Recipe
My kids order the orange chicken whenever we go out to Chinese. The crispy chicken and perfectly sweet orange sauce make this a kids' favorite every time. We finally decided it was time to try our own version at home. I wanted something that mimicked the taste and texture of their favorite dish, but a little healthier. After a bit of trial and error, we finally found a winning combination! I knew I wanted to try and adapt it for my crockpot, so that's what I did here. A quick pan-fry gives the chicken the texture you want, but you can skip this step if you prefer a more hands-off approach. The end result is a tender, lightly sweet Orange Chicken that is sure to satisfy any take-out craving.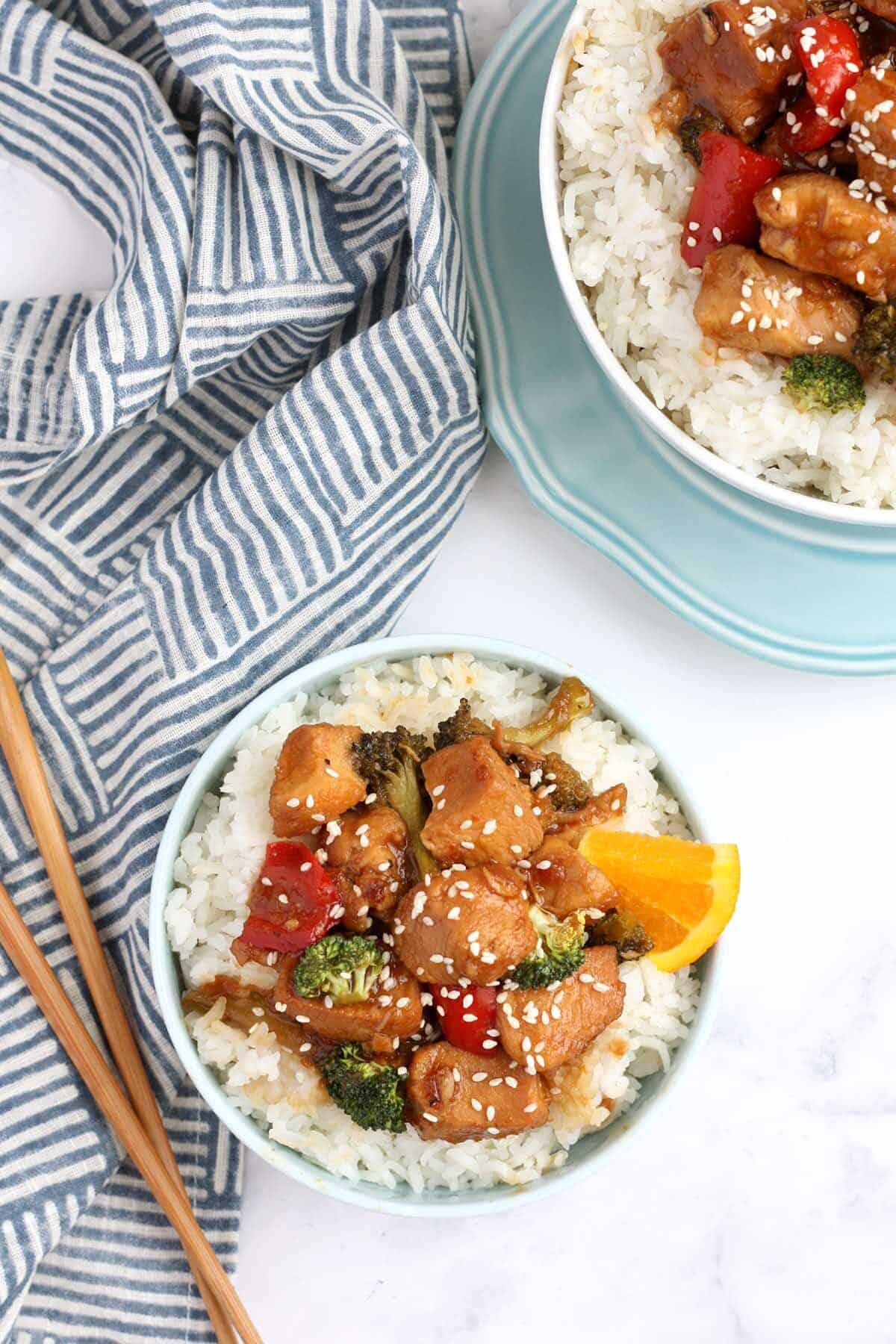 Ingredients for Crockpot Orange Chicken:
rice wine vinegar– Regular or seasoned rice wine vinegar will work here.
i am willow– We used low-sodium soy sauce.
Sesame oil– Sesame oil has a strong, distinctive Asian flavor. A little bit goes a long way! This is purely for taste here so you can leave it out if you want.
Orange marmalade– You can use any store bought brand of your choice here. It helps thicken the sauce and adds the perfect orange flavor.
brown sugar– Adds caramelly flavor to orange sauce.
salt pepperFor spice. We used kosher salt and freshly ground black pepper.
cornstarch– Creates a crispy exterior on the chicken and helps thicken the sauce.
hen– We used boneless, skinless chicken breasts, but chicken thighs work great here too.
broccoli floretsVery traditional vegetable for stir fry. Zucchini works great as a substitute.
paprika– Any color will do, but red is preferred for the color.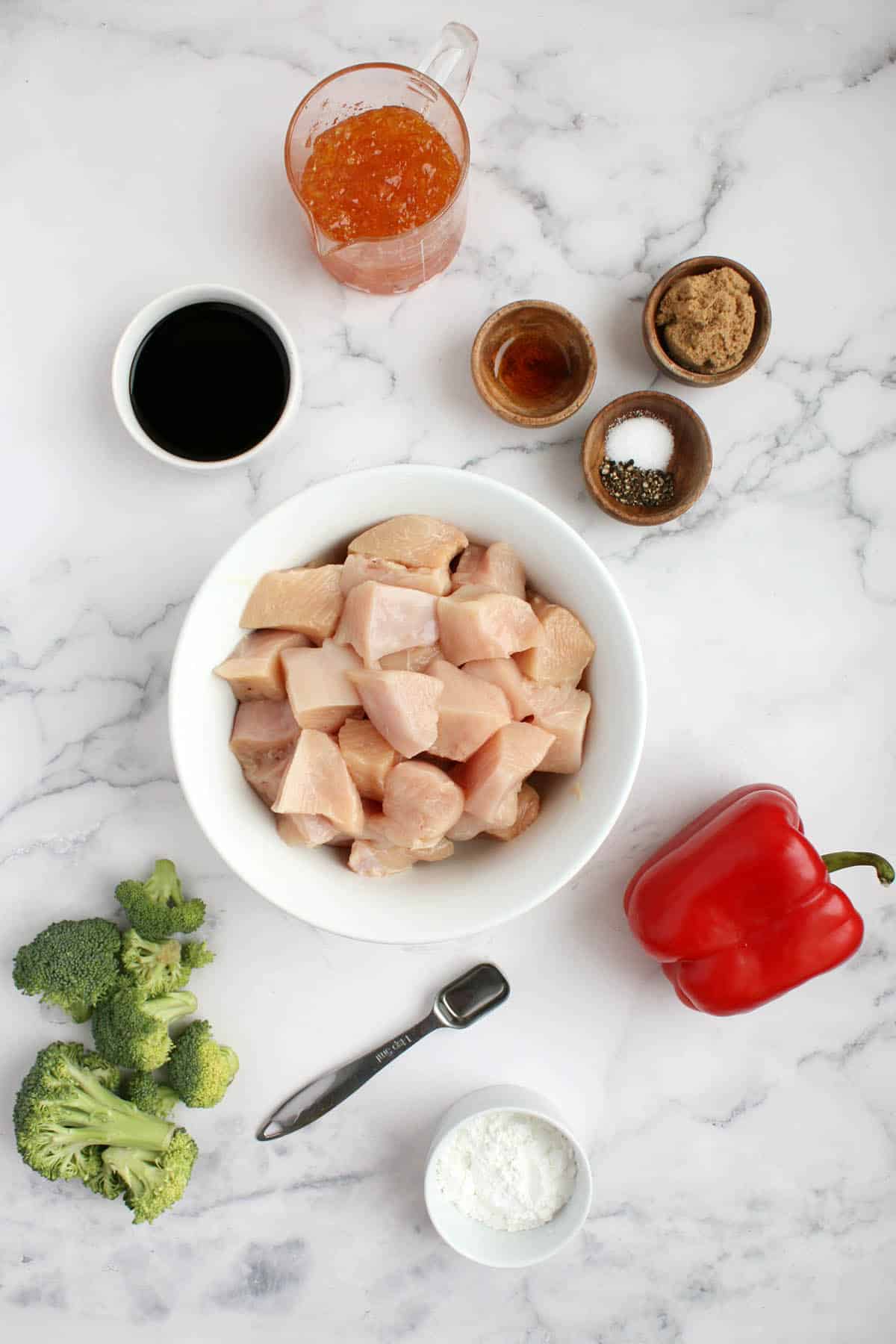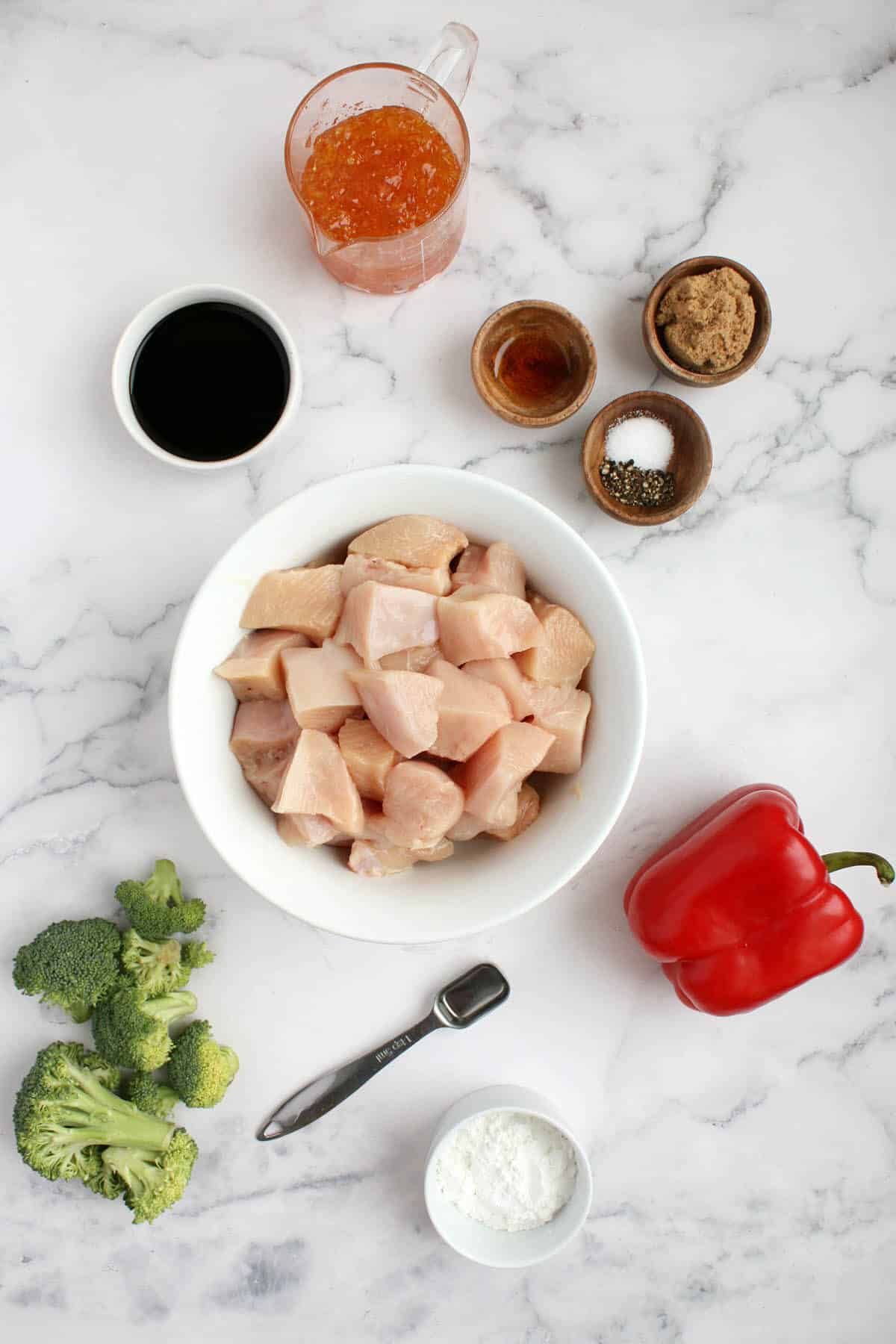 How to make Orange Crockpot Chicken:
Slow Whisk together vinegar, soy sauce, sesame oil, marmalade, brown sugar, salt and pepper.
dice Cut chicken into bite-size pieces and toss with cornstarch.
brown Chicken in a hot skillet with avocado oil. Transfer chicken to crockpot.
Flow marmalade mixture over chicken. Cover and cook on low flame for 3-4 hours.
add Chopped vegetables in crockpot during last 30 minutes of cooking; stir to coat.
construction Ladle 1/2 cup cooking sauce from crockpot into a small bowl, if desired. Beat in 1 tablespoon cornstarch until smooth. Pour back into crockpot and allow sauce to thicken.
service tax on rice and enjoy!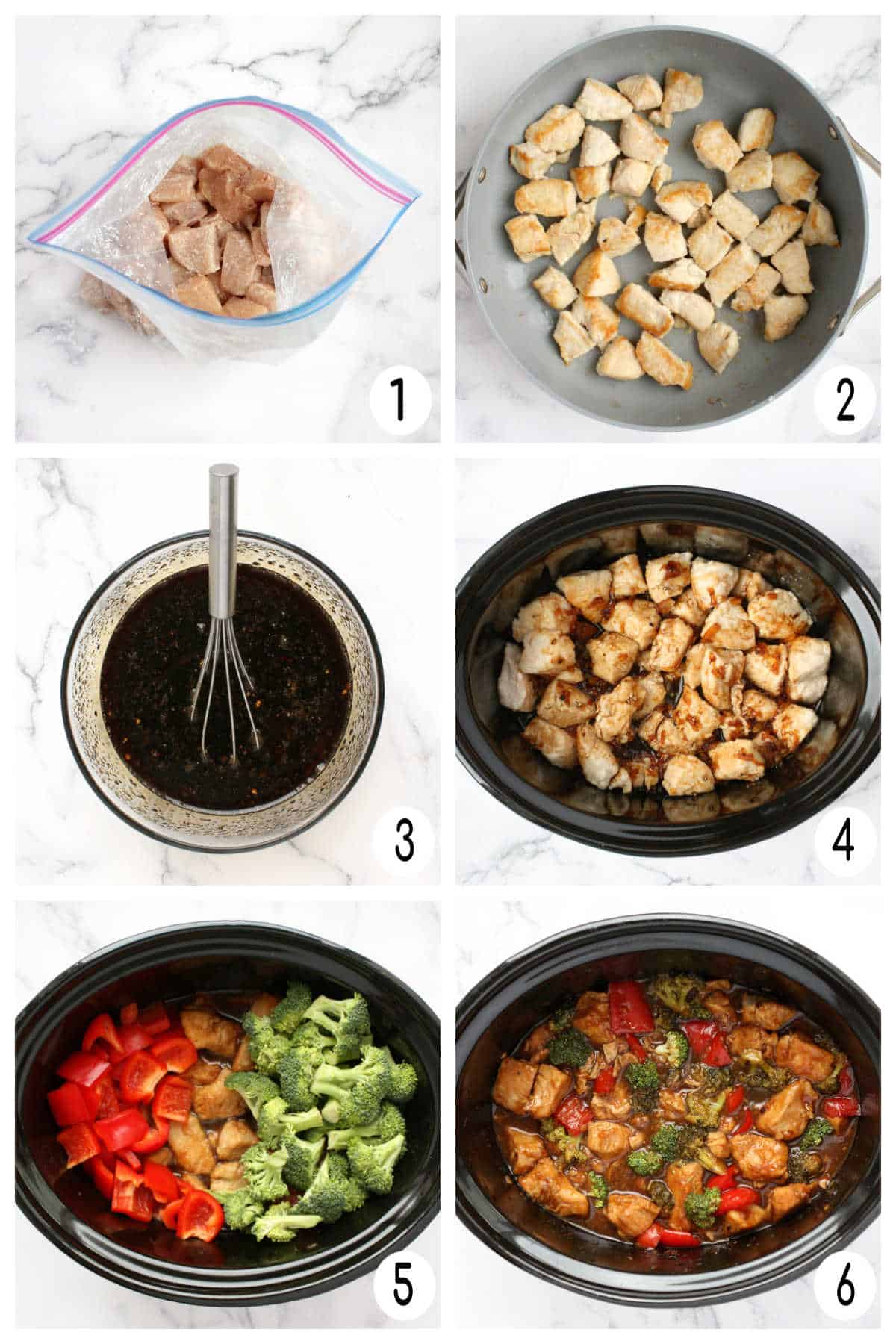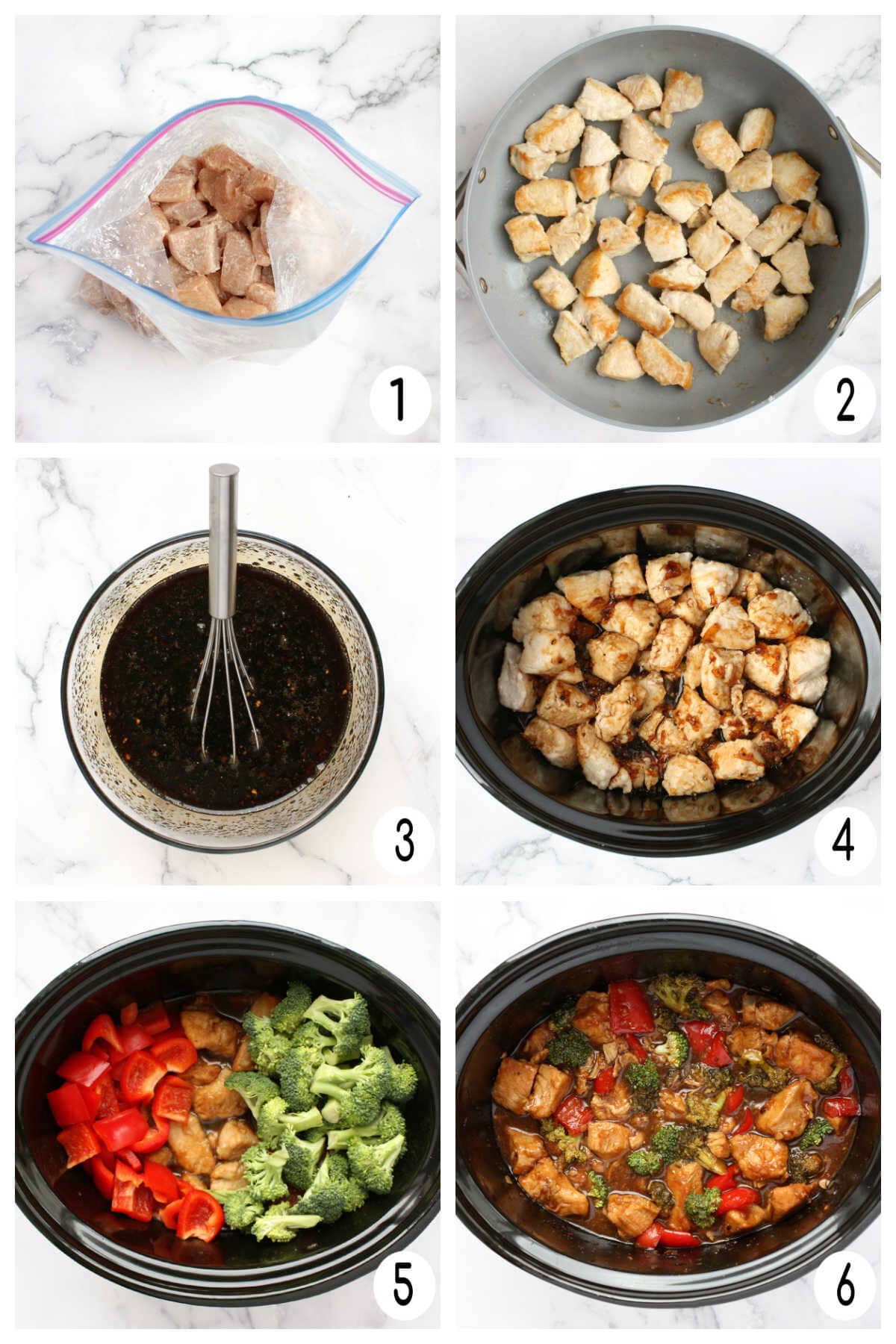 Tips and Tricks:
What are the best vegetables to fry?
We love the combination of broccoli and peppers, but you can use whatever veggies you like! Some other great options are onions, zucchini, mushrooms, cabbage and carrots.
How can I thicken the sauce?
If your sauce isn't as thick as you'd like it to be when cooking, make a simple slurry using some of the sauce from the crockpot (about 1/2 cup) and 1 tablespoon of cornstarch. Whisk together and pour back into the crockpot and let thicken.
What Kind of Chicken Should I Use for Crockpot Orange Chicken?
We used boneless, skinless chicken breasts. But chicken thighs are a great option too! It requires a little trimming, but it cooks nice and tender in the crockpot and is hard to overcook.
What should I serve with Orange Chicken?
We served our Crockpot Orange Chicken over a bed of white rice. Other great options are brown rice, rice noodles, or quinoa!
Can I Cook Orange Chicken on the Stove?
Yes! You can adapt this recipe to work on the stovetop. After browning your chicken, add the vegetables to the skillet and cook for 3-5 minutes. After this, pour the sauce into the pan. Let the sauce cook and thicken while the chicken cooks.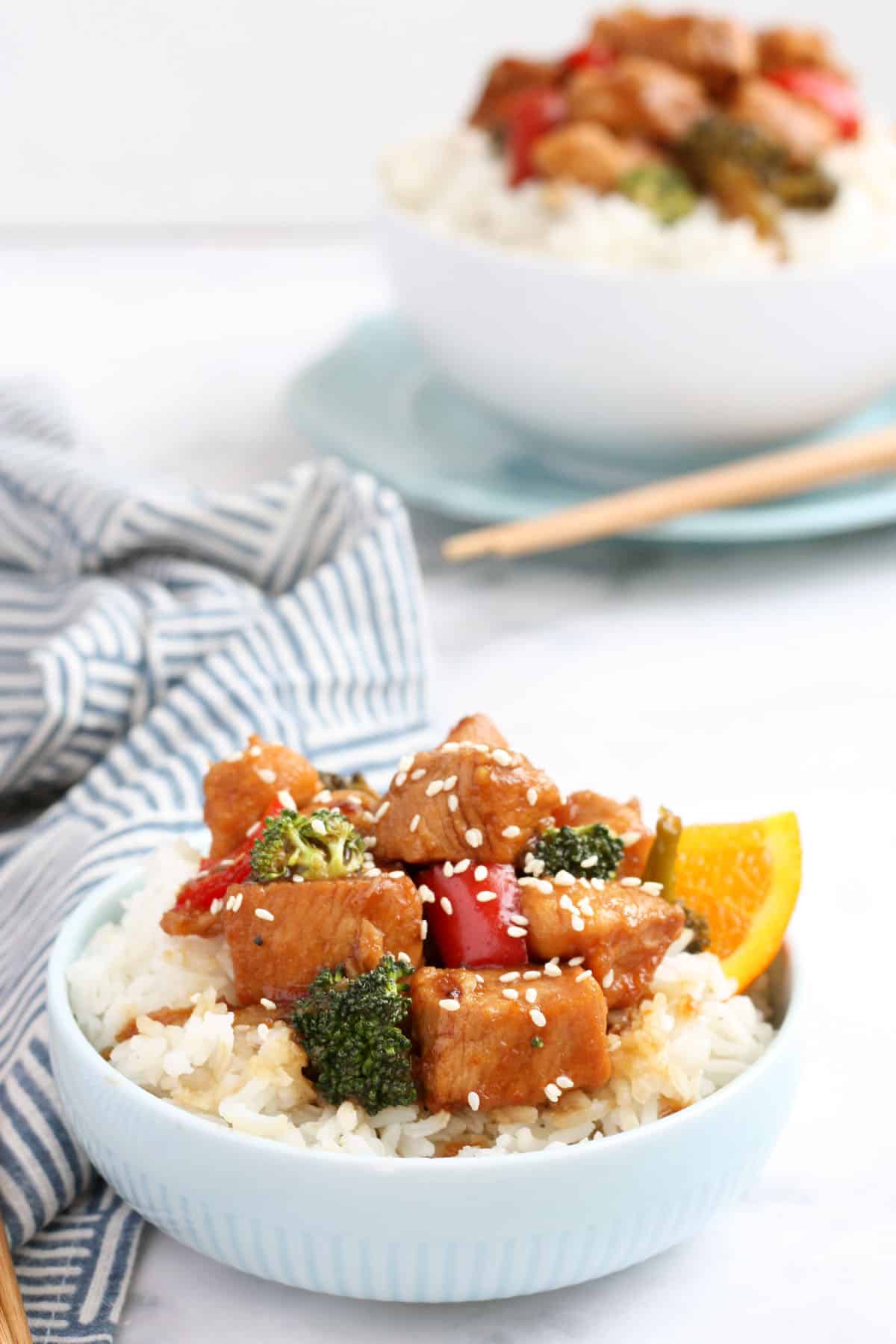 More Asian-inspired recipes you'll love: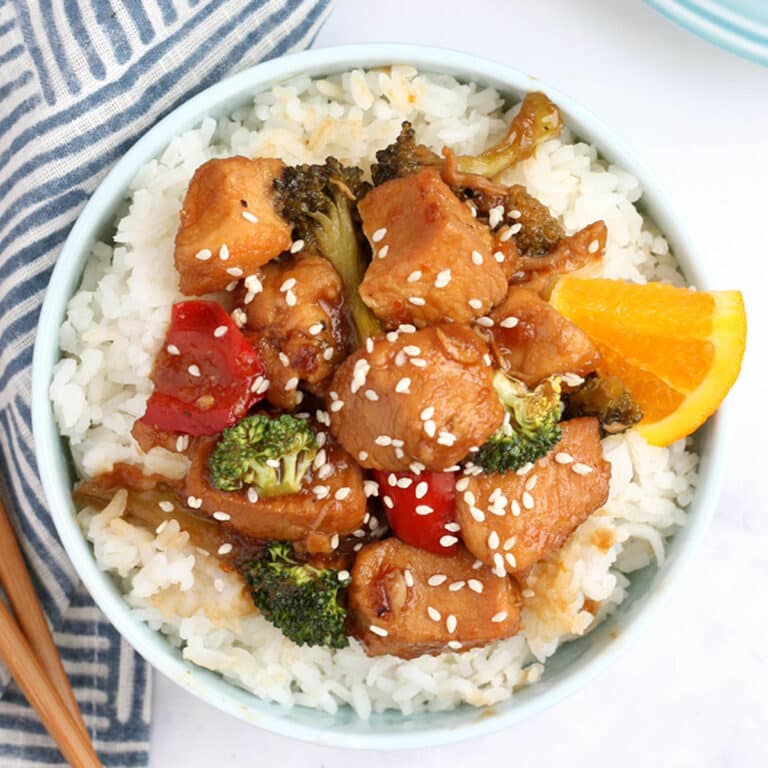 1

small spoon

rice wine vinegar

1/4

cup

low sodium soy sauce

1/2

small spoon

Sesame oil

3/4

cup

Orange marmalade

2

big spoon

brown sugar

1/2

small spoon

Salt

1/4

small spoon

black pepper, ground

3

big spoon

cornstarch

1 1/2

pound

chicken thighs, boneless, skinless

1

tablespoon

avocado oil

1

medium

paprika

2

cup

broccoli florets
In a small bowl, mix vinegar, soy sauce, sesame oil, marmalade, brown sugar, salt, and pepper. Cancel.

Cut chicken into small pieces, and toss with corn starch in a large Ziploc bag; stir to coat.

Pour oil in a large pan and heat it on medium heat. Once hot (oil will glisten), add chicken. Brown all sides and then place evenly on the bottom of the crockpot. Pour the vinegar mixture over the chicken making sure all pieces are covered, place the lid on the crockpot and cook on low for 4 hours or on high for 2 hours. Check your chicken halfway through and adjust time and temperature as needed – every crockpot cooks a little differently.

With 30 minutes left to cook, chop the bell peppers and chop the broccoli florets as needed. Add to crock pot and stir to coat with sauce.

If your sauce is still too thin after cooking, you can remove about 1/2 cup of the sauce from the crockpot and pour it into a small bowl. Beat in about 1 tablespoon cornstarch. Pour the solution back into the crockpot and let it thicken.

Once plated, serve over rice and spoon extra sauce over everything. Garnish with sesame seeds. enjoy!
Calories: 309kcal , Carbohydrates: 38Yes , Protein: 24Yes , thick: 8Yes , Saturated fat: 2Yes , Polyunsaturated Fat: 2Yes , monounsaturated fat: 3Yes , Trans Fats: 0.02Yes , Cholesterol: 108milligrams , Sodium: 712milligrams , Potassium: 474milligrams , Fiber: 2Yes , sugar: 29Yes , Vitamin A: 862IU , vitamin C: 54milligrams , Calcium: 48milligrams , iron: 1milligrams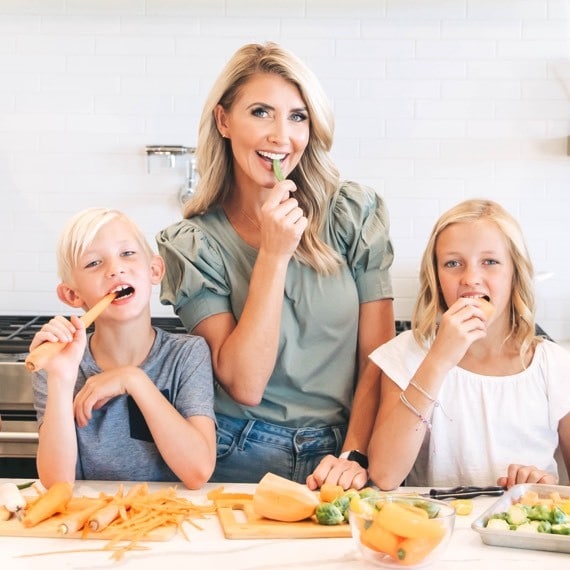 Natalie Monson
I am a registered dietitian, mother of 4, foodie and a strong advocate of healthy habits. Here you'll find tons of delicious recipes filled with fruits and vegetables, tips for getting your kids to eat better and become healthier eaters, and lots of resources for feeding your family.
Learn more about Natalie