If you're the parent of a baby or toddler, these healthy homemade teething biscuits are your new best friend. They are so easy to make with only a handful of ingredients!
Are Teething Biscuits Healthy?
Teething biscuits are designed to be chewed by babies to help ease the discomfort of teething. They are usually made with soft, easily digestible ingredients such as wheat flour, rice flour and oats. Although not a substitute for nutritious meals and snacks, they can be a healthy part of your child's diet.
Parents and caregivers should supervise infants when they are eating biscuits and avoid giving them to very young children who do not yet have the ability to safely chew solid foods. Teething biscuits can also pose a choking hazard if they break into small pieces, so it is important to ensure that the biscuits are soft enough to be chewed easily and that the baby is not left alone while eating them.
However, those brand new, beautiful baby teeth can wreak havoc on their gums..and when it comes to soothing little one's mouth soreness, teething biscuits can be a lifesaver! Many of the starter biscuits on the market are either a little overpriced or have extra ingredients that I don't necessarily want, such as sugar, salt, or dairy milk.
I quickly learned how easy it is to make my own. These healthy homemade teething biscuits are portable and you can make a batch and freeze them ahead of time, which is great for when a tooth suddenly pops out. I love these because there are only 3 primary ingredients, and you can add different flavorings to keep things interesting. They're soft enough to chew on without causing mouth pain, but can stand up to a lot of drool!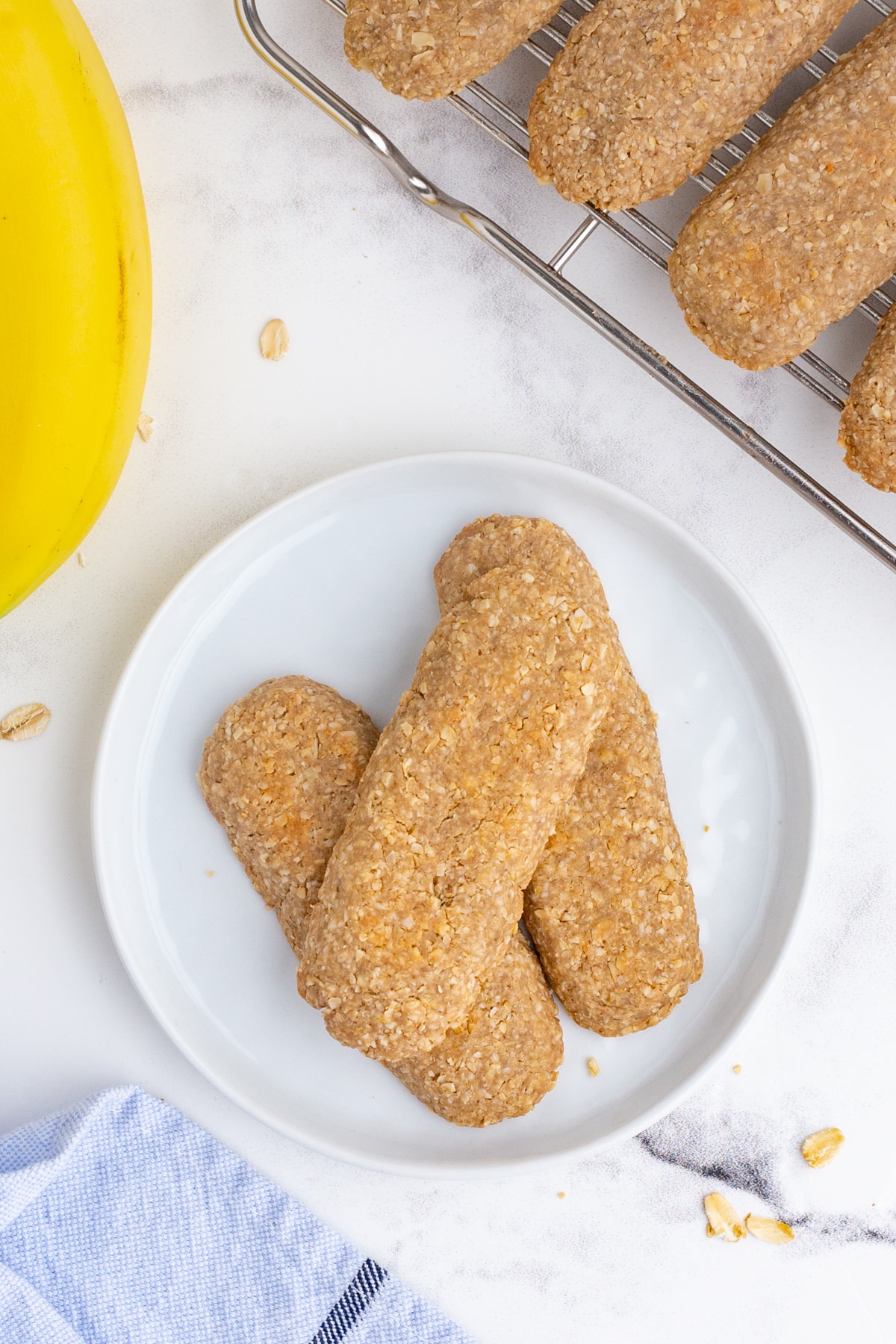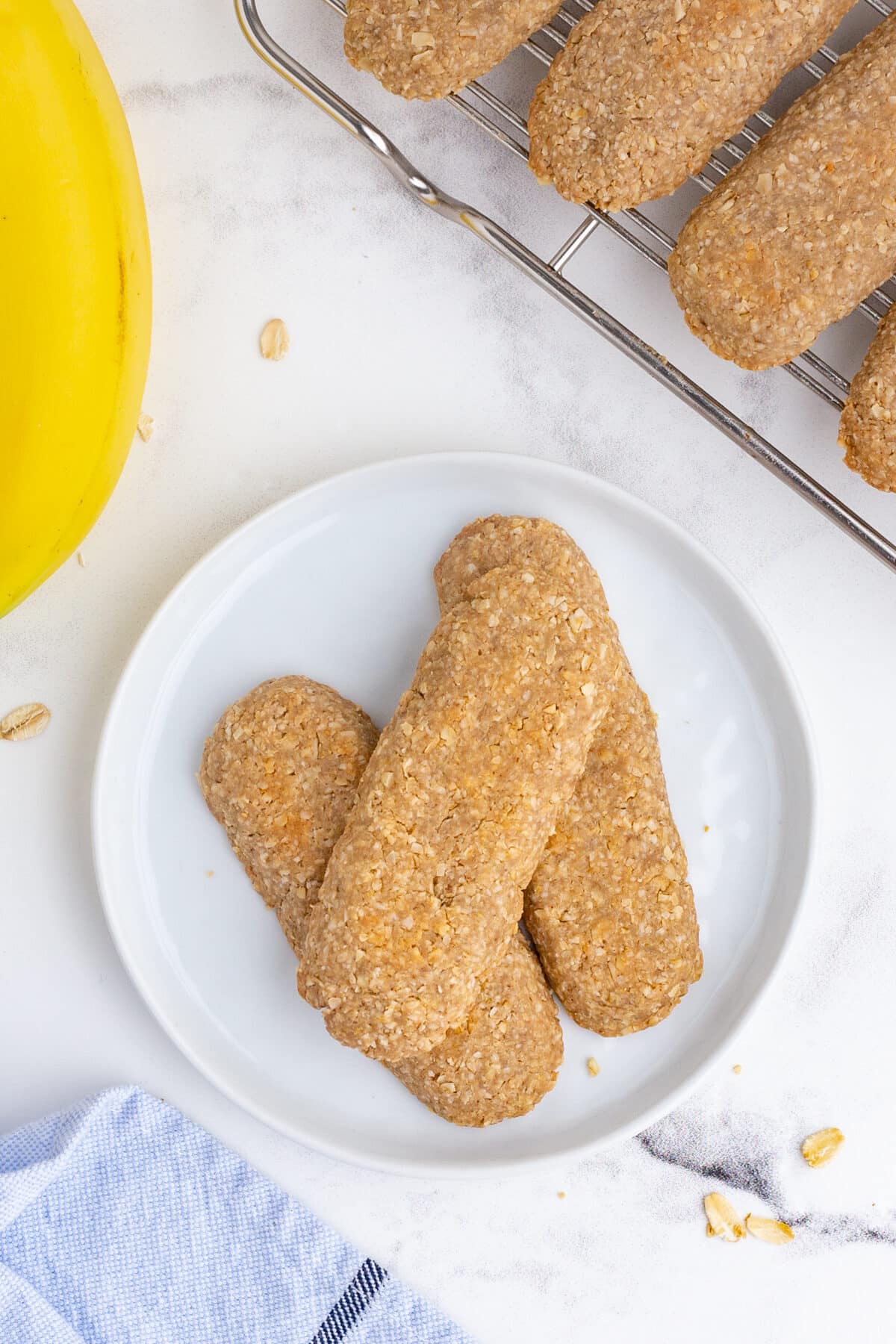 Ingredients for homemade beginner biscuits:
Oat– You will want to use regular rolled oats
banana– A ripe banana works best. It will puree better and add sweetness.
coconut oil– It is used as a binding agent, and gives a creamy texture to biscuits. Coconut oil is believed to have soothing and pain-relieving properties.
cinnamon– to taste; This component is optional.
vanilla extractTo taste as well. You can play with the spices!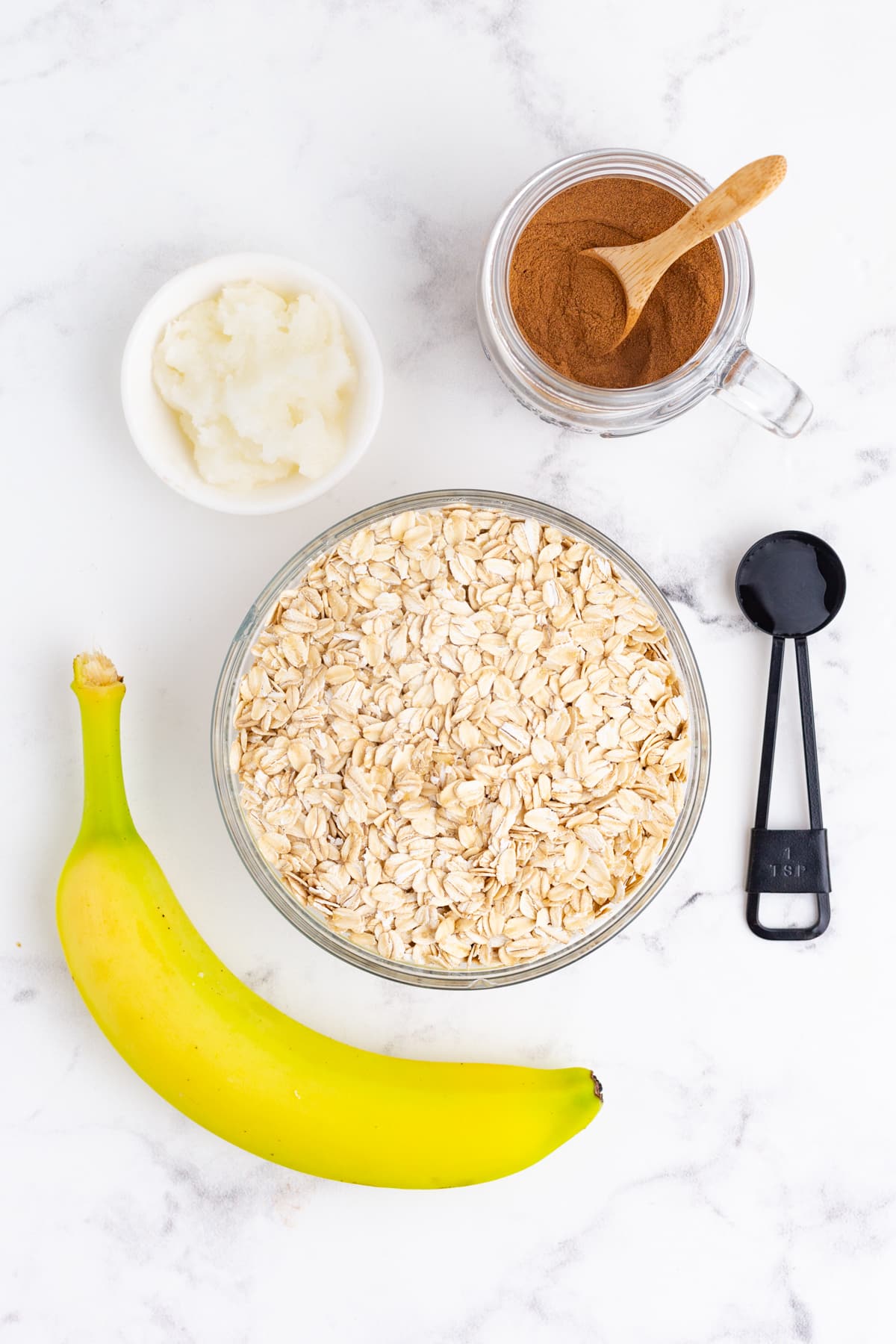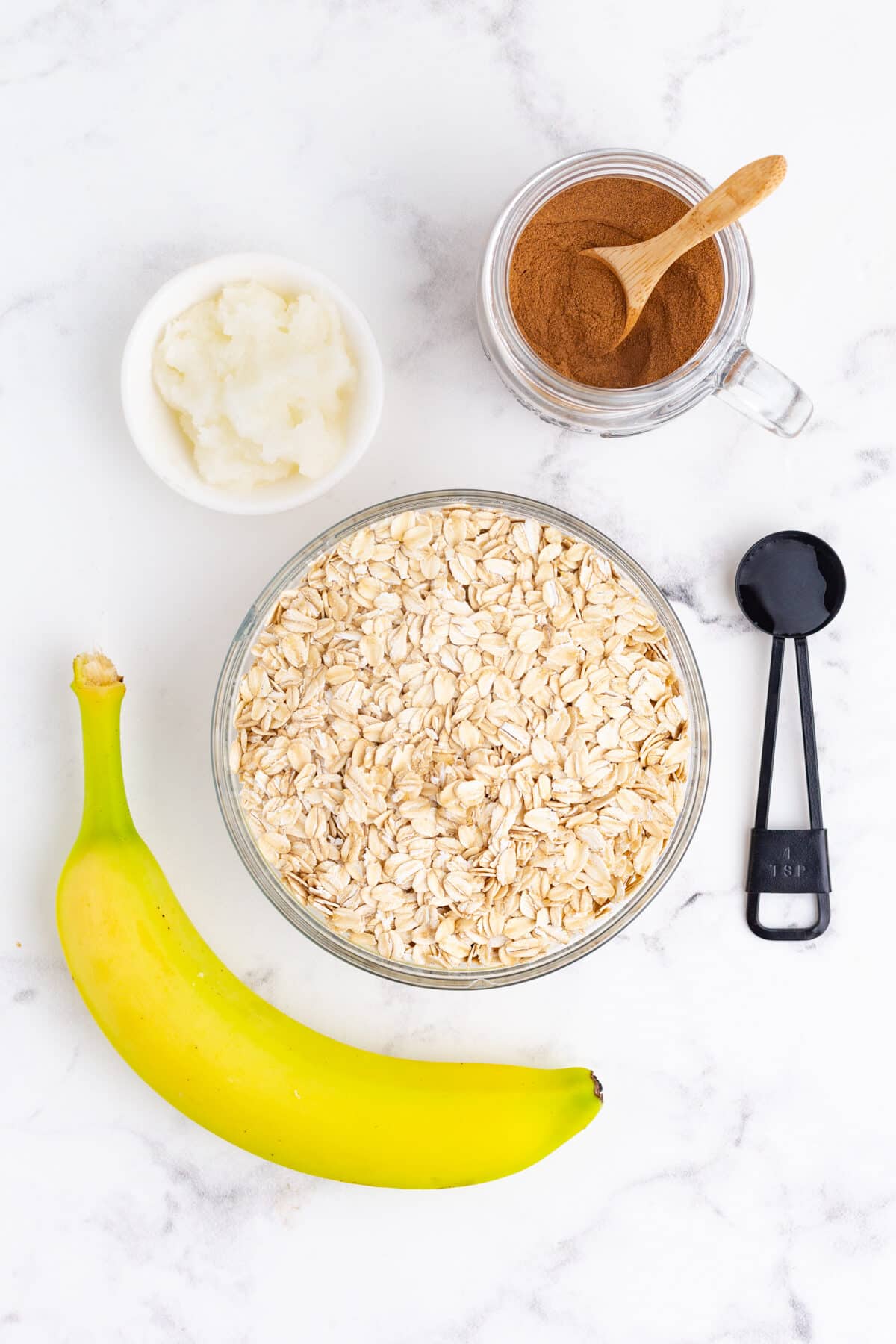 How to make beginner biscuits at home:
Mix Using a food processor, turn the oats into a fine powder.
add Banana, coconut oil, cinnamon and vanilla (or any other flavor combination you're using). Pulse until all ingredients come together into a dough.
split Dough into 12 balls. Shape each piece into a round, baton-shaped biscuit about 1 inch thick and 4 inches long. Make sure there are no sharp edges!
Location on parchment covered baking sheet. Bake at 350 degrees for 10 minutes. Flip each biscuit and bake for an additional 5-10 minutes or until edges are golden and center is set but not too crisp.
cool completely before serving. Store in an airtight container in the freezer or at room temperature.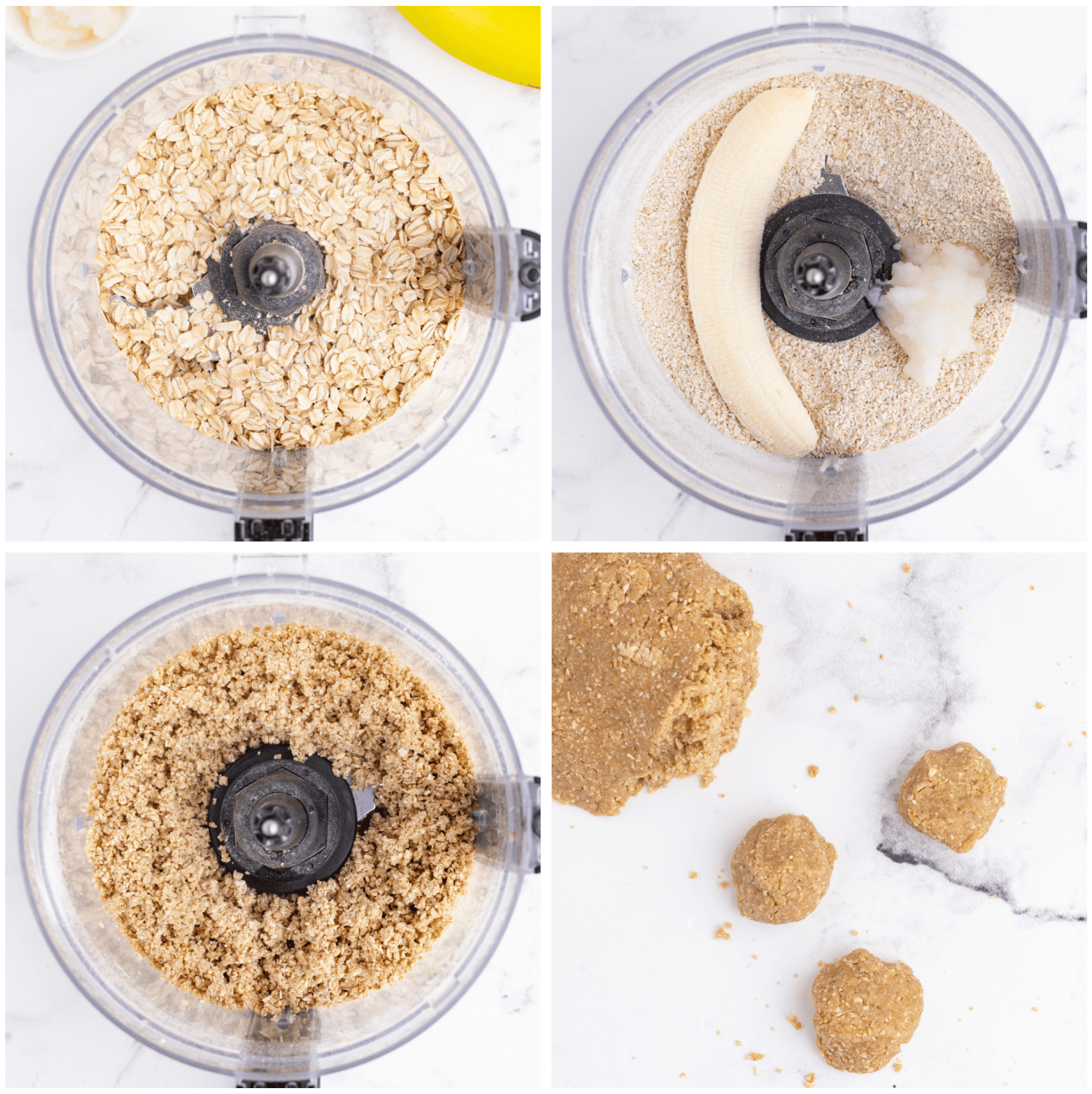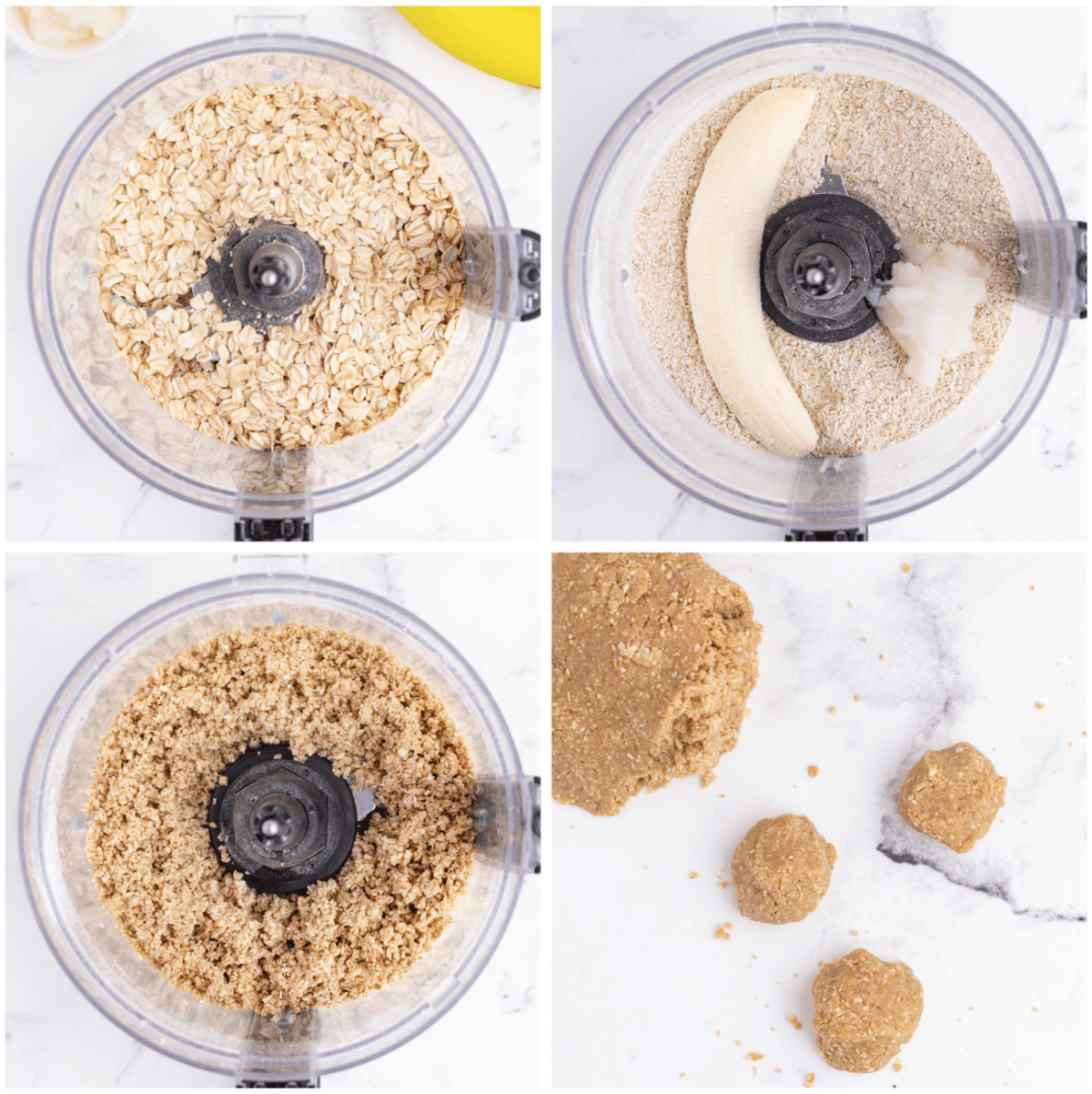 Notes on recipe:
For the best oat flour… To make oat flour, you simply measure out the oats and then grind them in a blender or food processor. The finer you blend the oats, the smoother your final texture will be in the initial biscuits.
Change your taste! They are quite bland anyway. My kids liked them plain like this, but sometimes we'd add a pinch of cinnamon, ginger, or nutmeg, or 1/4 tsp vanilla extract to the recipe. You can also add 1 tablespoon of raw cacao or unsweetened cocoa powder to the recipe. For a savory version, you can use olive oil instead of coconut oil and add in some spices and fresh or dried herbs. Start small and work your way up!
Choose the right size. I can get about 12 starter biscuits with this recipe. You want them to be several inches long (long enough for your child to hold them) and thin enough. Please make sure you round off the corners, as little mouths will not want any sharp edges stuck in their gums!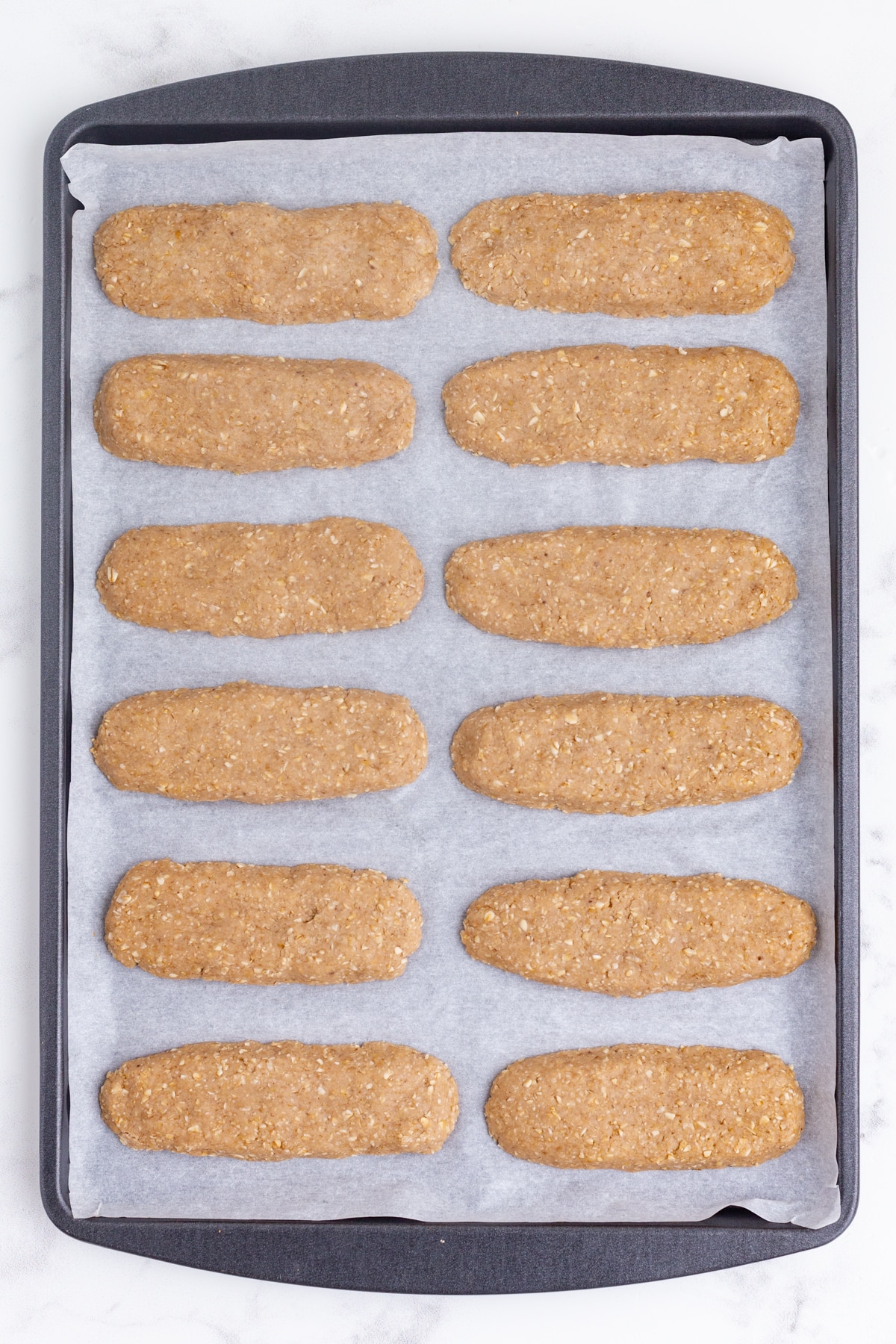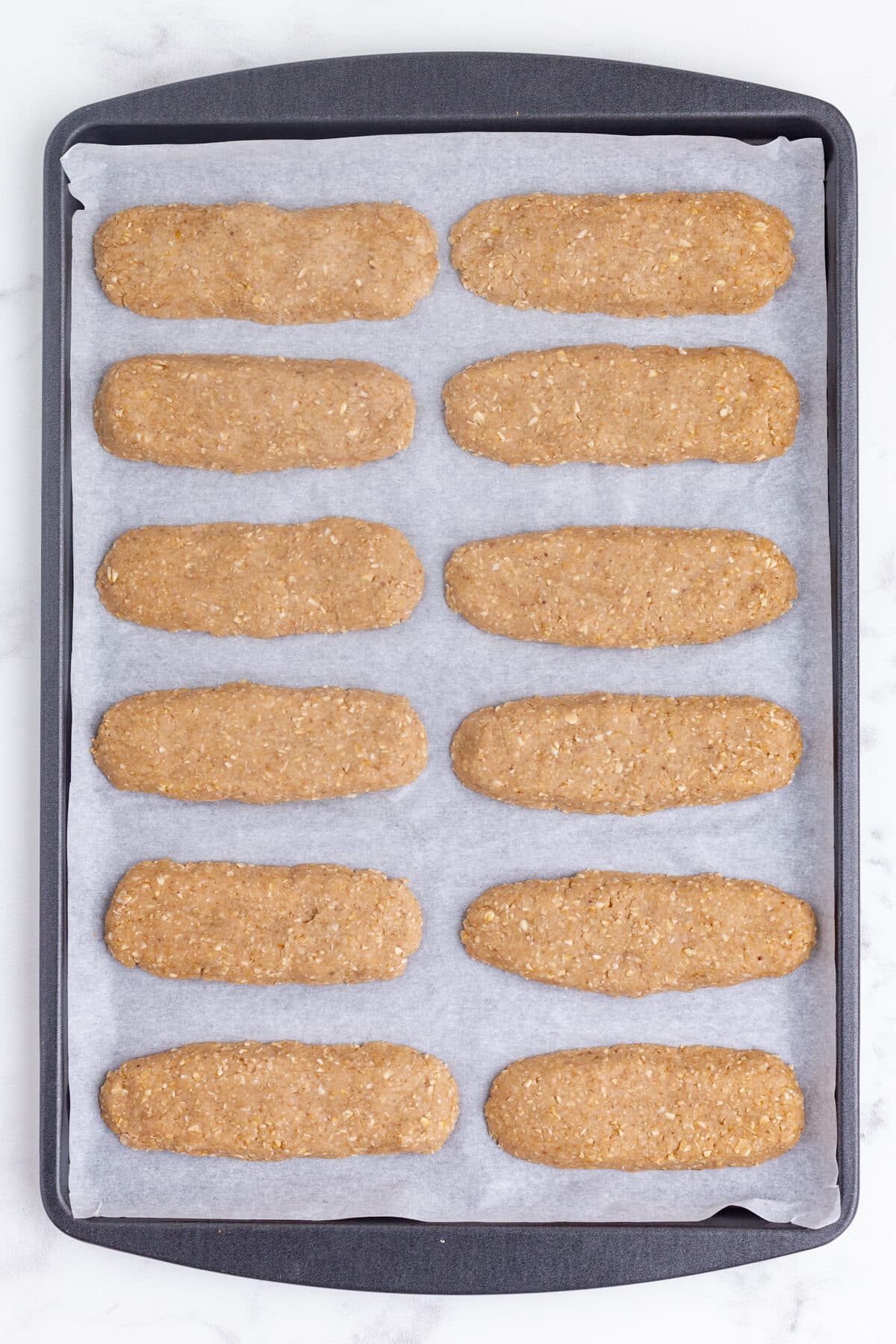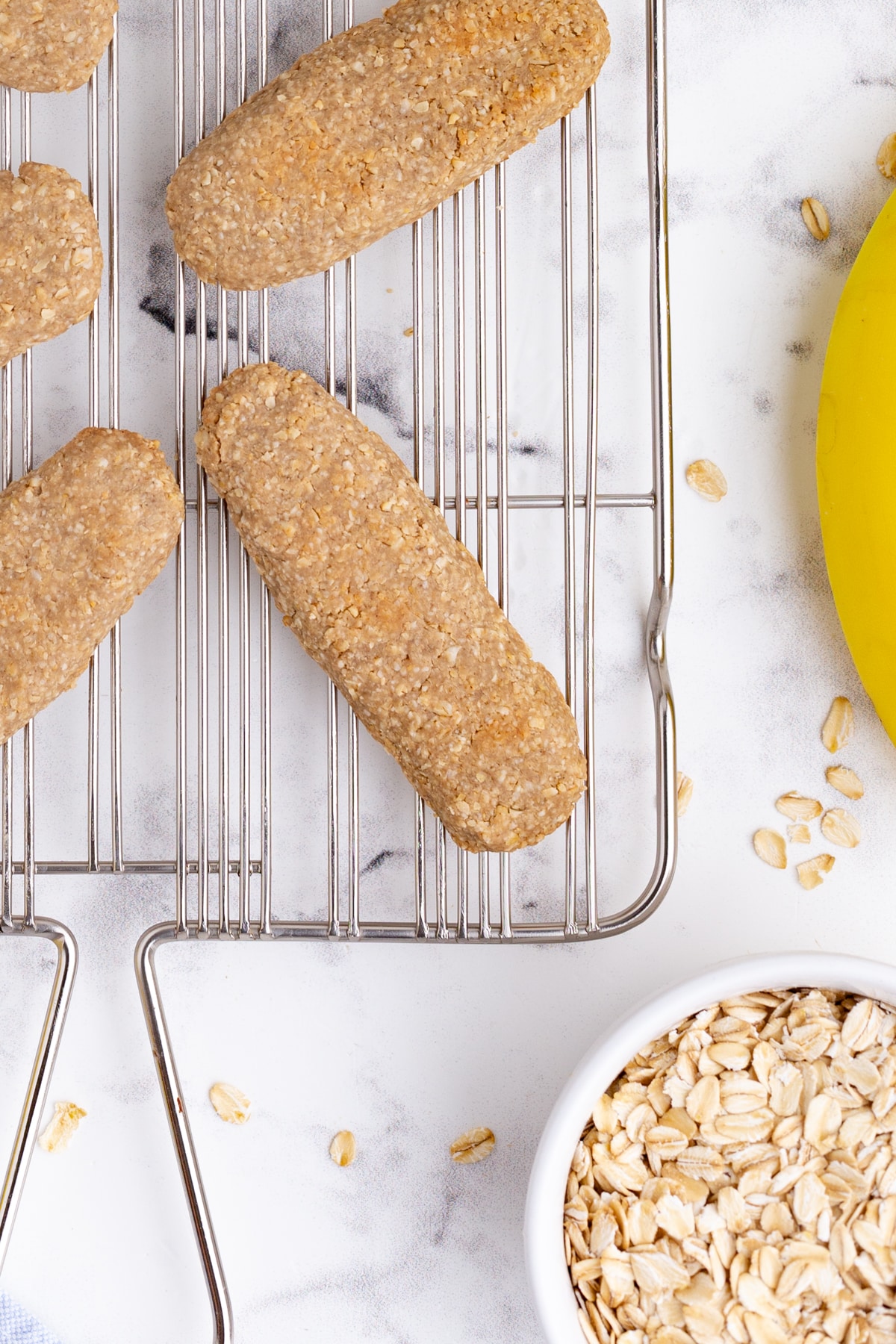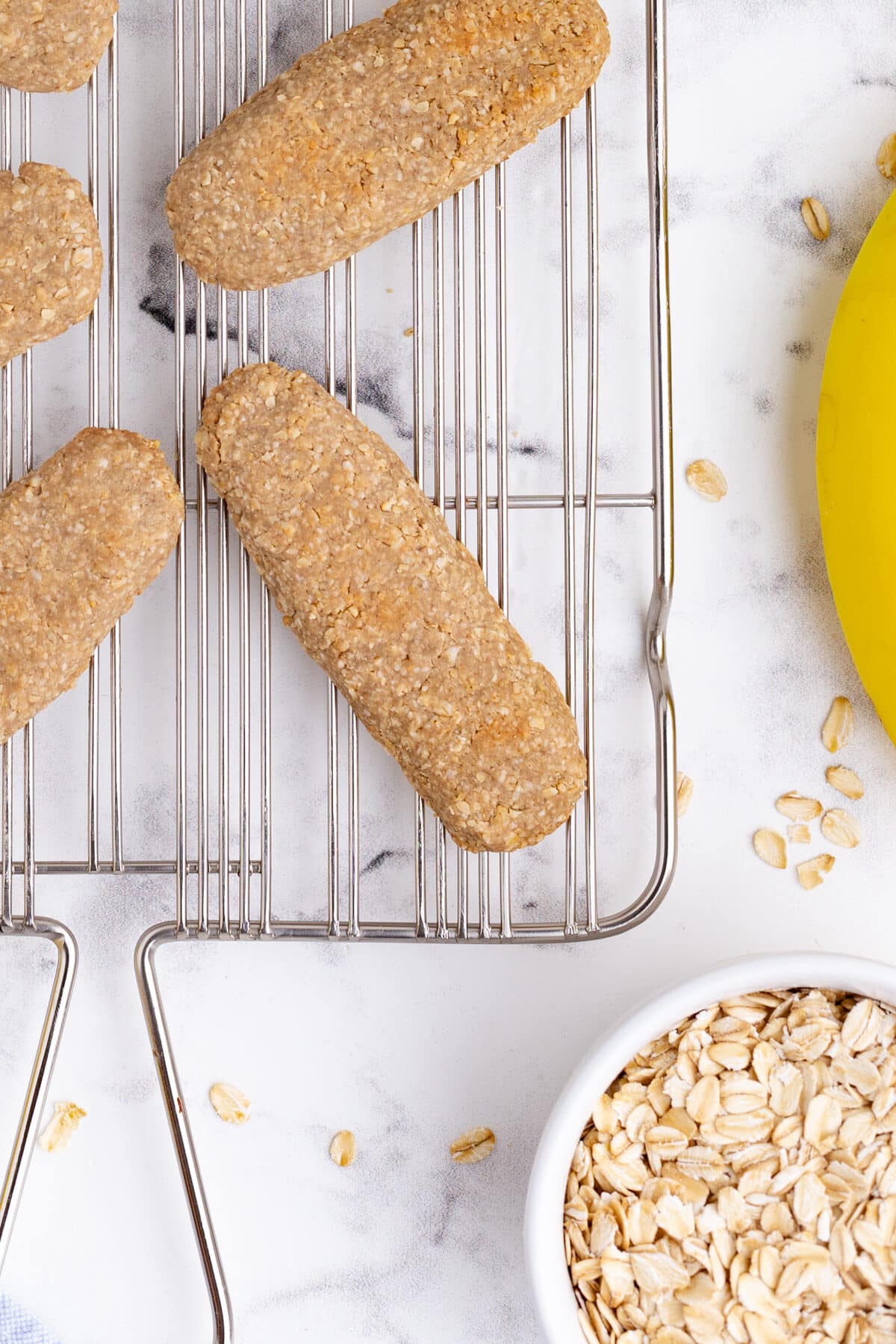 More kid-friendly recipes to try: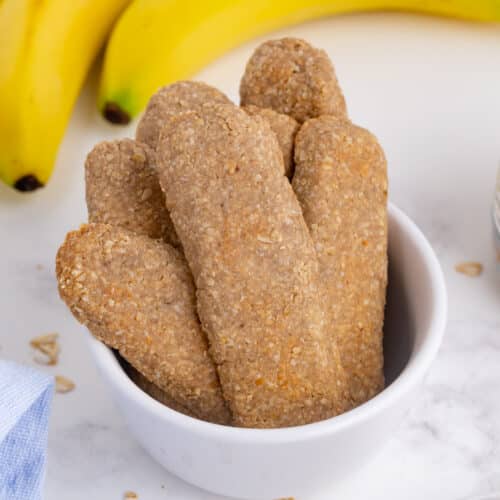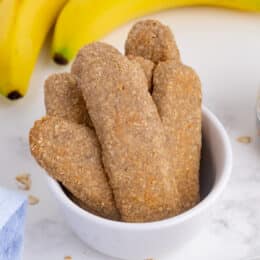 Preheat oven to 350 degrees. Prepare a baking sheet with parchment paper or a silicone baking mat.

In a food processor (or blender), blend oats into a very fine powder.

Add the banana and coconut oil (and any vanilla or spices you're using) to a blender and puree until the mixture comes together into a dough.

If the dough is too sticky to handle, you can pat a little flour (gluten free or wheat flour) on the outside of the ball to make it easier to handle. If the dough is too dry, you can add a little extra coconut oil.

Divide dough into 12 balls or squares. Pat each ball into a baton about 4 inches long and 1 to 1 1/2 inches wide and about 1/4 inch thick. Round the edges of each batten with your fingers so that there are no sharp edges.

(Alternatively, you can roll the whole dough ball into a rectangle about 1/4 inch thick and cut it into 12 rectangles. Round off the corners of each rectangle and make the shapes roughly identical. I found that shaping each baton works better for me than rolling and slicing, but you can do what works best for you).

Place evenly on baking sheet so none of the batons are touching. Bake at 350 degrees for 10 minutes. Flip and cook for 5-10 minutes or till the edges are golden brown and the centers are set but not too crunchy.

Let cool completely. Store in an airtight container at room temperature, in the refrigerator or freezer.
Calories: 80kcal , Carbohydrates: 1 1Yes , Protein: 2Yes , thick: 3Yes , Saturated fat: 2Yes , Polyunsaturated Fat: 0.4Yes , monounsaturated fat: 0.4Yes , Sodium: 1milligrams , Potassium: 85milligrams , Fiber: 2Yes , sugar: 1Yes , Vitamin A: 6IU , vitamin C: 1milligrams , Calcium: 8milligrams , iron: 1milligrams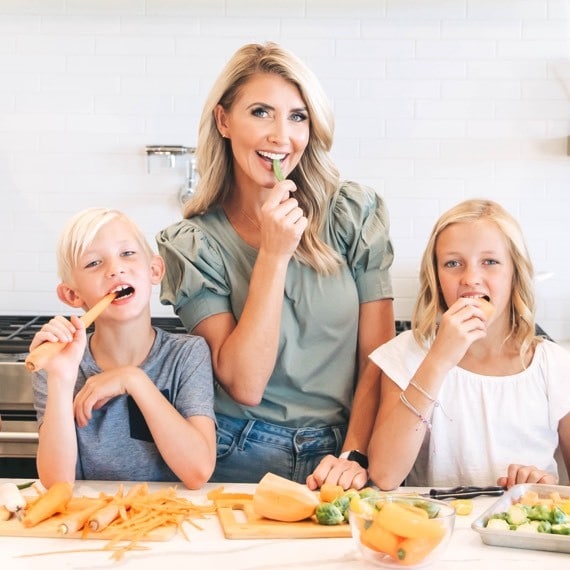 Natalie Monson
I am a registered dietitian, mother of 4, foodie and a strong advocate of healthy habits. Here you'll find tons of delicious recipes filled with fruits and vegetables, tips for getting your kids to eat better and become healthier eaters, and lots of resources for feeding your family.
Learn more about Natalie