Hearty and comforting, this white bean and kale soup recipe deserves a spot in your winter rotation. Crunchy homemade croutons top it all off.
This kale soup recipe is exactly what I'm craving these days: comfort food + tons of veggies, all rolled into one. Its creamy broth (which, by the way, is thickened with blended white beans, not heavy cream) is swimming with tender kale and aromatics like onions, carrots, and celery. Rosemary and thyme add pine flavor, and a squeeze of lemon juice gives it the perfect bright finish. If you're looking for a dish that's equal parts comforting, healthy, and delicious, look no further. It's Cabbage Soup!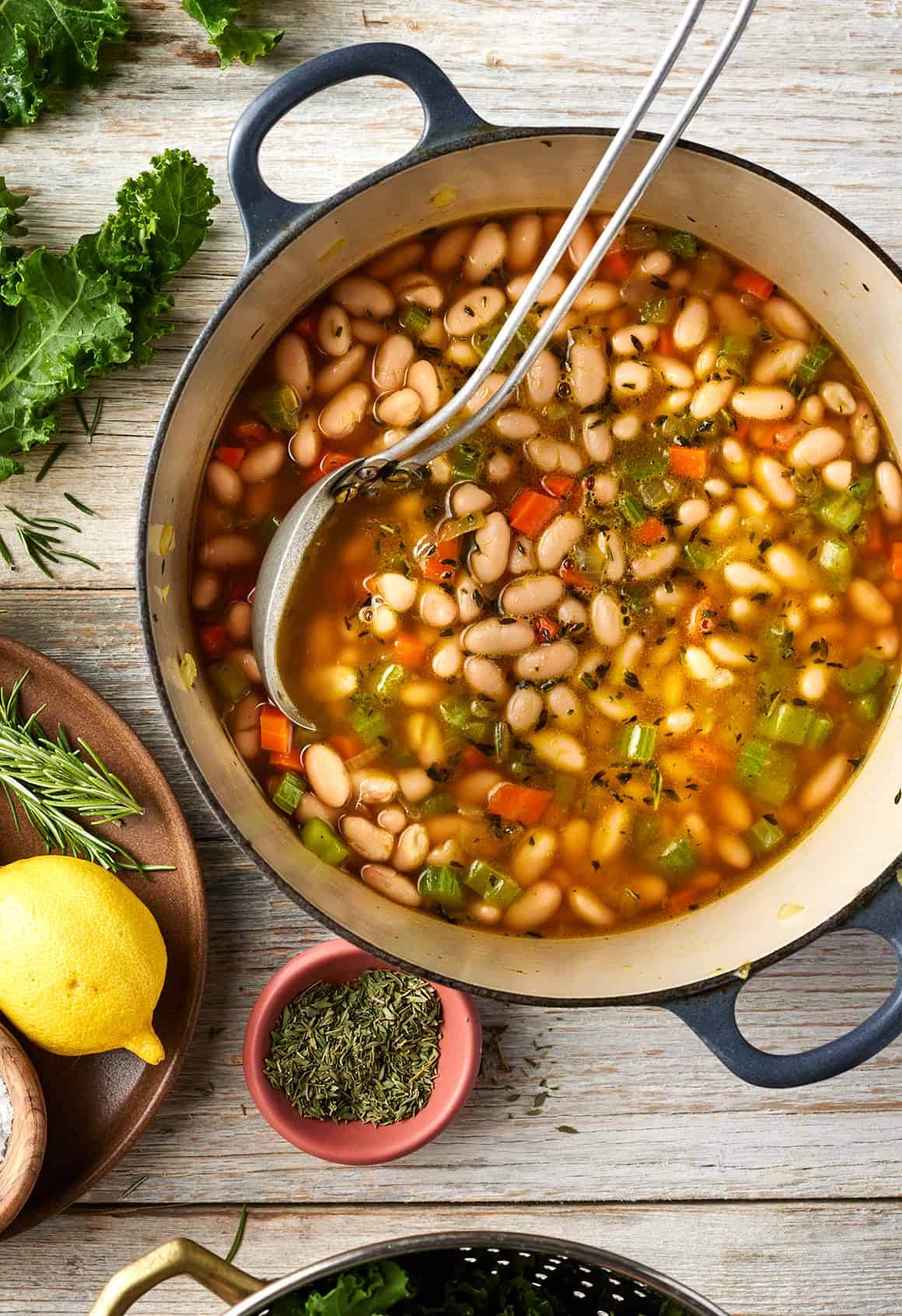 How to make Cabbage Soup
You can find the complete kale soup recipe with measurements below, but here's a little overview of the process:
First fry the aromatic things. Heat a large amount of olive oil in a Dutch oven or large soup pot over medium heat. Then, add the onions, carrots, celery, garlic, rosemary, thyme, salt, and several grains of pepper. Cook for 8 minutes or so, until the vegetables are soft and fragrant.
Next, add beans and broth and simmer for 20 minutes. You can use cooked dried beans or canned white beans to make this recipe. I definitely recommend cooking your own if you can, as beans cooked from scratch are far tastier than canned ones. However, if you use canned, this first boil will give the beans a chance to absorb some of the flavor. The same goes for vegetable broth. Use store-bought, or make your own! If you cook your own beans, you can also use bean cooking liquid instead of broth.
Then, blend half the soup. Scoop it into an upright blender and blend until smooth. Pour creamy puree back into soup pot.
Finally add kale and lemon juice. Boil for 5 minutes or till the cabbage is tender. If necessary, add water to thin the soup to your desired consistency. Season to taste and serve!
Kale Soup Recipe Tips
Anything goes when it comes to cabbage. I often make this recipe with curly kale, but Tuscan kale, or lacinato kale, would be lovely here too. No buds on hand? You can substitute for another hardy green, such as Swiss chard.
Adjust the consistency as per your liking. This kale soup recipe requires a little tweaking in the end. The type of white bean you use (cannellini beans, Great Northern beans, and navy beans all work great!) and how much soup you add will affect how thick the soup is when you stir the puree back into the pot. It is so thick. If it's too thick, don't worry about it! Add water, 1/2 cup at a time, until it reaches your desired consistency.
season to taste. Once the soup reaches your desired level of creaminess, don't forget to season to taste! After adjusting the consistency, you may need to add more lime juice, salt, and/or pepper to make the flavors sing.
Save some for later. This white bean and kale soup keeps well in an airtight container in the refrigerator for up to 4 days, although it will thicken as it sits. You'll need to thin it out with a little water or stock when you're reheating it. For longer storage, freeze the soup for up to 3 months.
Serving Ideas for White Bean and Kale Soup
Loaded with protein and fiber from white beans, this kale soup recipe is a satisfying meal on its own. Before digging in, top your bowl with a drizzle of olive oil and fresh parsley. A little Parmesan cheese and a sprinkle of red pepper flakes would also be delicious toppings. You also can't go wrong with homemade croutons, which provide a wonderful crunchy contrast to the creamy soup. If you omit them, be sure to serve the soup with nice crusty bread.
Want something else on the side? Kale Soup Recipe goes well with a salad. Serve it with any of these recipes:
enjoy!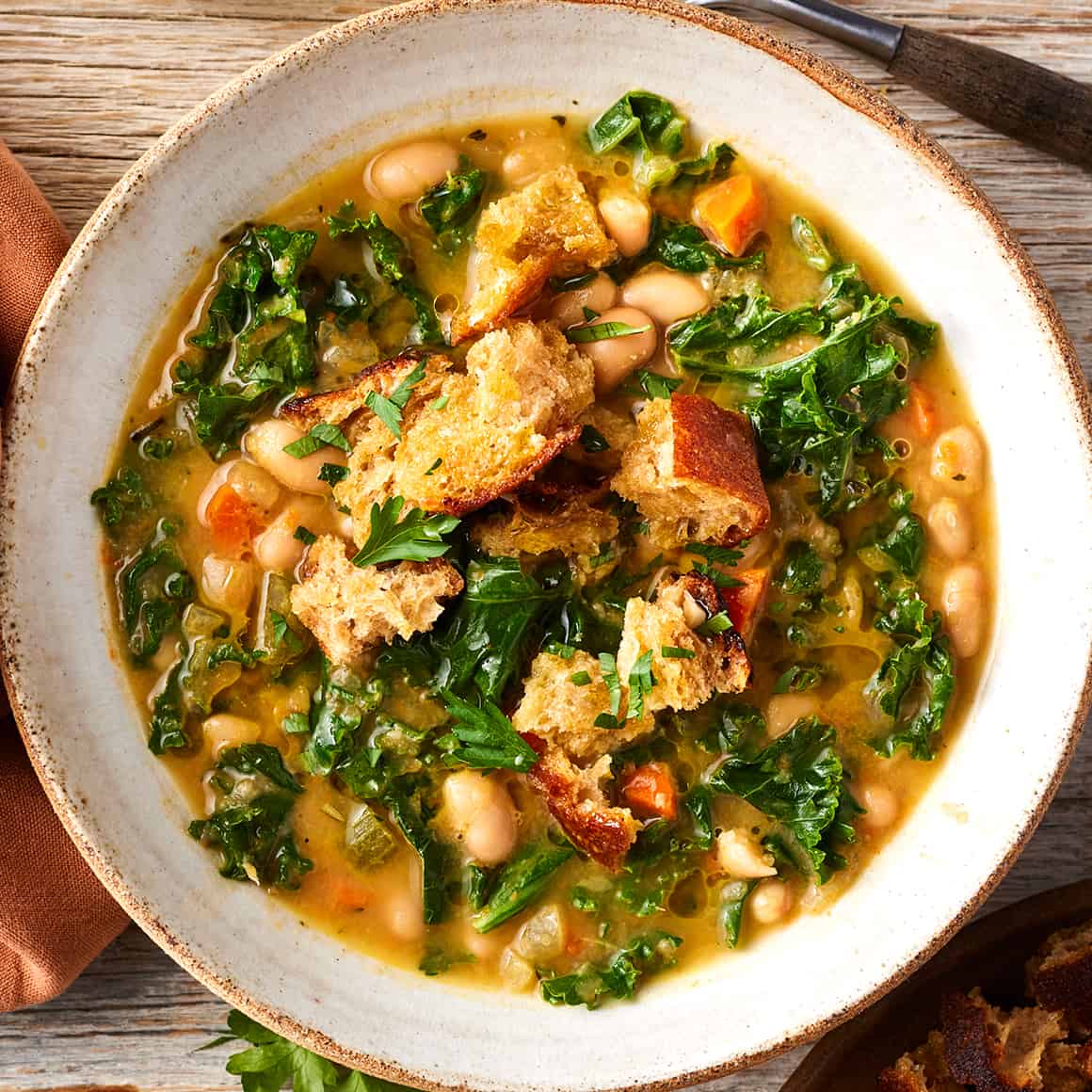 More Favorite Kale Recipes
If you like this black and white bean soup recipe, try one of these fresh kale recipes:
Want more comforting soup recipes? Find our 35 favorites here!
Kale Soup
works 4 to 6
Filled with aromatic vegetables and creamy white beans, this kale soup recipe is a hearty, comforting vegetarian meal. Vegetarian and gluten free.
¼

cup

extra virgin olive oil

,

plus more for drizzling

1

medium yellow onion

,

sliced

1

medium carrot

,

sliced

2

celery ribs

,

sliced

2

Garlic cloves

,

sliced

1

tablespoon

chopped fresh rosemary

1

small spoon

sea ​​salt

,

for more flavor

and a half

small spoon

dried thyme

freshly ground black pepper

4½

cup

cooked white beans

,

drained and washed

4

cup

Vegetable bag

6

cup

chopped cabbage leaves

2

big spoon

fresh lemon juice

Homemade Croutons

,

for serving

fresh parsley

,

for garnish
Heat olive oil in a large pot or Dutch oven over medium heat. Add several pieces of onion, carrot, celery, garlic, rosemary, salt, thyme, and pepper. cook for 8 minutes, while stirring occasionally, or till they turn soft. Add beans and broth. Boil for 20 minutes.

Transfer half the soup to a blender and blend until smooth. Pour the puree back into the pot and add the kale and lemon juice. Cook, stirring, until kale is wilted, about 5 minutes. If soup is too thick, stir in water 1/2 cup at a time until it reaches your desired consistency. Season to taste (I usually add another ¼ teaspoon salt at this point) and serve with a drizzle of olive oil, croutons and fresh parsley for garnish.