How to prepare Pastad Pork Tenderloin on the grill or baked in the oven that melts in your mouth and is perfect for a main meal or lunch sandwich.
I found a pasteurized pork tenderloin a few weeks ago while "freezer diving".
It was over a year old but still delicious both as a main meal and as leftovers.
That's the advantage of buying quality pasture-raised meat from a local farm. It's very fresh when you get it and will last even longer in the freezer.
This is in stark contrast to supermarket meat which can potentially be gassed and/or frozen/thawed several times before being bought "fresh".
I thought I would share the easy steps of preparation so that you can try it yourself next time you see it available.
One method of preparing healthy pork is to marinate it for a short time before cooking as is done by traditional cultures.
This careful preparation was necessary for safety and added digestibility.
Foremost among these was the long-standing Okinawan culture where pork was a staple.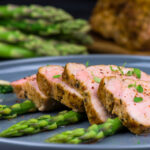 Pastured Pork Tenderloin
How to prepare Pastad Pork Tenderloin on the grill or baked in the oven the traditional way that melts in your mouth.
Instruction
Trim excess skin from surface of tenderloin.

Place sliced ​​pork tenderloin in a glass bowl.

Mix whey and lemon juice and pour it on top.

Marinate in the fridge, uncovered, for an hour.

Rinse the tenderloin under filtered water and dry thoroughly with a clean, cotton dishtowel.

Cut a large clove of garlic (or two small ones) into four or five pieces.

Push the garlic cloves into the holes you can make in the pork tenderloin meat deep enough so that you almost end up with the meat.

Rub two tablespoons of sea salt over the entire surface of the tenderloin.

Rub freshly ground black pepper over the entire surface of the tenderloin.

Place on top rack of barbecue grill (or in oven) that is 350–400 °F (177–204 °C) depending on foil or foil option.

Cover and cook for thirty minutes. After baking, check with a thermometer to make sure the temperature in the center is 145–165 °F (66–74 °C).

Slice onto a serving platter and garnish with optional rosemary sprigs. serve immediately.

Enjoy leftovers as a pork sandwich on sourdough buns with homemade barbecue sauce.
nutrition Facts
Pastured Pork Tenderloin
Amount Per Serving (0.25 lb)
calories 154
Calories from Fat 54
% daily value*
thick 6 grams9%
saturated fat 2g10%
polyunsaturated fat 0.6g
Monounsaturated Fat 2.7g
cholesterol 75 mg25%
sodium 56 mg2%
potassium 407mg12%
protein 23 g46%
iron 1.36 mg8%
*Percent Daily Values ​​are based on a 2000 calorie diet.